The lead actors of Sai Paranjpye's Sparsh,
Naseeruddin Shah
and
Shabana Azmi
, had recalled in great detail about the film's emotional intelligence, the detail of thier characters and all the hard work and genuine effort that the film's creator, Sai put into making it. Here's looking back at their candid appraisal.
Naseeruddin Shah: Usually blind characters in cinema have self-pity but Anirudh in Sparsh had pride and dignity
"Does anyone remember Sparsh? I am very proud of that performance. It came just before Aakrosh. In fact I went without a day's break from Sparsh to Aakrosh. Two completely different worlds. After playing the blind man I had to guard against blinking my eyes on the sets of Aakrosh. I can't think of too many blind characters in our films that have been done with finesse.
The credit for making Anirudh credible goes to Sai Paranjpye. The scenes she created for him were so truthful. It was very easy for me to play Anirudh. What I had to get right was the blind man's body language. And that was something I was working on even before Sparsh. The body language of blind people always fascinated me. I had two class mates in college who were blind. I used to observe them a lot. I needed to only understand why the blind behaved the way they did. The sheer excellence of the writing took care of the rest.
Anirudh was a character with a great deal of pride and dignity. Usually the blind in our cinema are portrayed as these self-pitying characters. The person Mr Mittal on whom my character was based was the principal of the school we were shooting in. If you ever saw him you'll see the most beautiful eyes on him. No one could tell he's blind. The way he walks, lights a cigarette, conducts himself is like a completely normal sighted man. In fact Mr Mittal's proud self-declaration was, 'Why do you call me disabled? I am just differently abled.' That was the first time I heard the term 'differently abled' and so many years ago! Mr Mittal felt he could do anything except drive a car. He hoped some day there would be a car that the blind can drive.
Also, my grandmom was blind. I used to watch her quite closely. I didn't do anything special to prepare for the part except to familiarize myself with the surroundings in the blind school. As for looking so blind, it was finally just an acting trick. If someone feels that the trick didn't show? That's a compliment. I must say it was very kind of Sai Paranjpye to trust me with a central part at that early stage of my career. I believe Mr Sanjeev Kumar was the first choice for Sparsh. For some reason he chose not to play the part and it simply fell into my lap. I was thrilled because it was an author-backed role. Sai had a lot of faith in me. When I read the script I didn't feel there was the need to change a single thing in the script. I think Sai recently did a play, but no movies in recent times.
I rate Masoom and Sparsh as my best performances. Both these films co-starred Shabana Azmi who has always very supportive and a positive influence on my performances."
Shabana Azmi: Sparsh is special because Javed Akhtar loved the film and I got re-introduced to him because of it
"Sai Paranjpye has a delightfully observant eye as a writer. Her dialogue is quirky, comic, colloquial without losing out on depth. Sparsh is a beautifully written film about two social outcastes, one a physically challenged man and the other a widow who come together, bound by the most delicate bonds of love. The widow is a far cry from the standard long-suffering Hindi film widows both in the way she behaves and what she wears. And yet years of tradition and convention get in her way. The relationship between Naseer and his assistant is so endearing.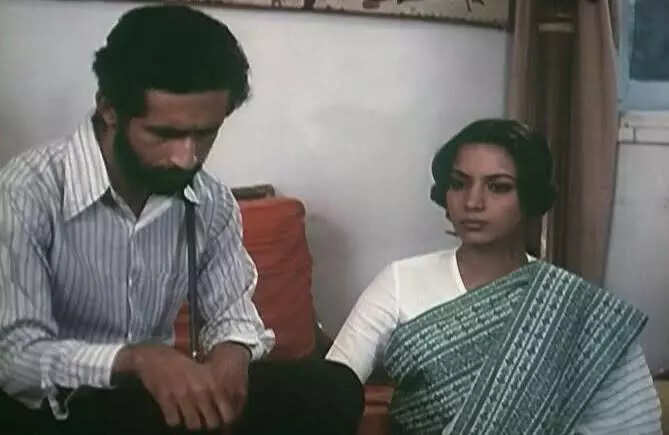 It was amazing to work with the blind children, disconcerting at first but then it dawns on you that the handicap is in our heads. They've come to terms with their condition and make the most of life. They play cricket in their own ingenious way. They would say, 'Didi, we saw your film'. I would be taken aback. But then I would see them sitting in front of the TV and "hear" the film with all the joie de vivre at their disposal.
Sparsh was the first film that made a plea for story books in braille. Today it's a reality. I didn't particularly work on characterization. Just went along instinctively and obeyed Sai's directions. It was fascinating to watch Naseer transform himself. He was so convincing as a blind man that off-camera I would subconsciously give him my hand when he was walking downstairs! I had predicted he would win the National Award, and he did. Sparsh is special to me for personal reasons also. Javed Akhtar loved the film and I got re-introduced to him because of Sparsh."